Ah, January. All things are fresh. Clean slates. Resolutions locked in. We're all ready for bigger, and better things in the new year.
Though we're all well acquainted with the "new year, new you" mentality, it's time to apply that to our sleep habits and bedroom setups.
That's why at Flexabed we're saying "new year, new bed." It's no mystery how sleep affects us or how critical it is to our overall well-being, but are you putting your best foot forward on the sleep front? We've got some suggestions for you on how to sleep better. As you start this new year, why not upgrade your sleeping arrangements?
New Adjustable Mattress
When did you buy your adjustable mattress? Even if your mattress looks as good as new, it could be lacking in the support it provides you.
Maybe your mattress just doesn't feel as comfortable or as supportive as it used to. If this is the case, it's likely time to upgrade. Here are some tips on when to replace your mattress!
Even if your mattress isn't too old or too worn, it still might not be the very best fit for you and your sleep needs. Take time to assess these things, because your sleep quality could very well depend on it.
*Check out our selection of Flexabed adjustable bed mattresses if you decide it is indeed time to upgrade in this department.
New Adjustable Bed Frame
What's a new mattress without a new adjustable bed frame to go with it? If you're really serious about upgrading your sleep setup, you won't want to skimp on the bed frame. Perhaps it's time to invest in a luxury adjustable bed so you can sleep like you never have before. Find the perfect customizable options from Flexabed, and enjoy a sleep experience that is truly a craft.
Custom-tailored for you and your preferences, our Flexabed adjustable bed frames set the standard for comfort and convenience. Raise and lower the frame, elevate your head or feet or both…you never have to be uncomfortable in bed again.
More Space, Better Sleep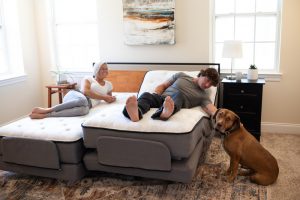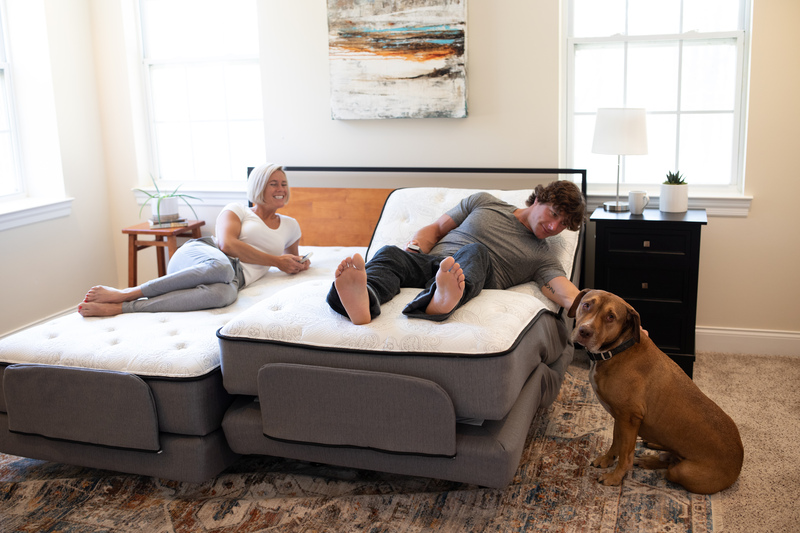 Another way to upgrade your sleep setup is by opting for a larger bed. Whether you're moving from a twin to a full or a queen to a California king, more space in bed is never a bad thing.
Regardless of if you sleep alone, have a partner, or have kids or pets who like to snuggle, choosing a larger mattress and bed frame means you won't have to dodge midnight kicks or elbows. Side-sleepers can flip sides without a care in the world. Upgrade your bed size for added comfort and luxury in the new year!
Try a Weighted Blanket on Your Adjustable Bed
You've probably heard people raving about how wonderful weighted blankets are, but perhaps you've never taken the plunge to invest in one for yourself. The calming effect of a weighted blanket can decrease stress and worry while helping you achieve peaceful rest and incredible sleep.
The weight of the blanket can help reduce the amount of movement you make during the night, which can help to boost the amount of time spent in deep, rejuvenating sleep cycles. Leave tossing and turning behind, and enjoy a new year of quality rest.
Update Your Bedroom Lighting
Another way you can upgrade your sleep set up for the new year is with updated lighting in your bedroom. If you haven't used smart light bulbs before, perhaps now is the time to give them a try. Program your lights to dim or brighten, and go off or on at specific times to help you set a sleep schedule and stick to it.
Use voice commands to adjust lighting or turn lights off when you're ready to turn in for the night. Curate your lighting situation to work naturally with your circadian rhythm, and relax your way right into another year.
No matter what, we hope the new year brings you only the best things, including luxury Flexabed products, and consequently the best sleep of your life.