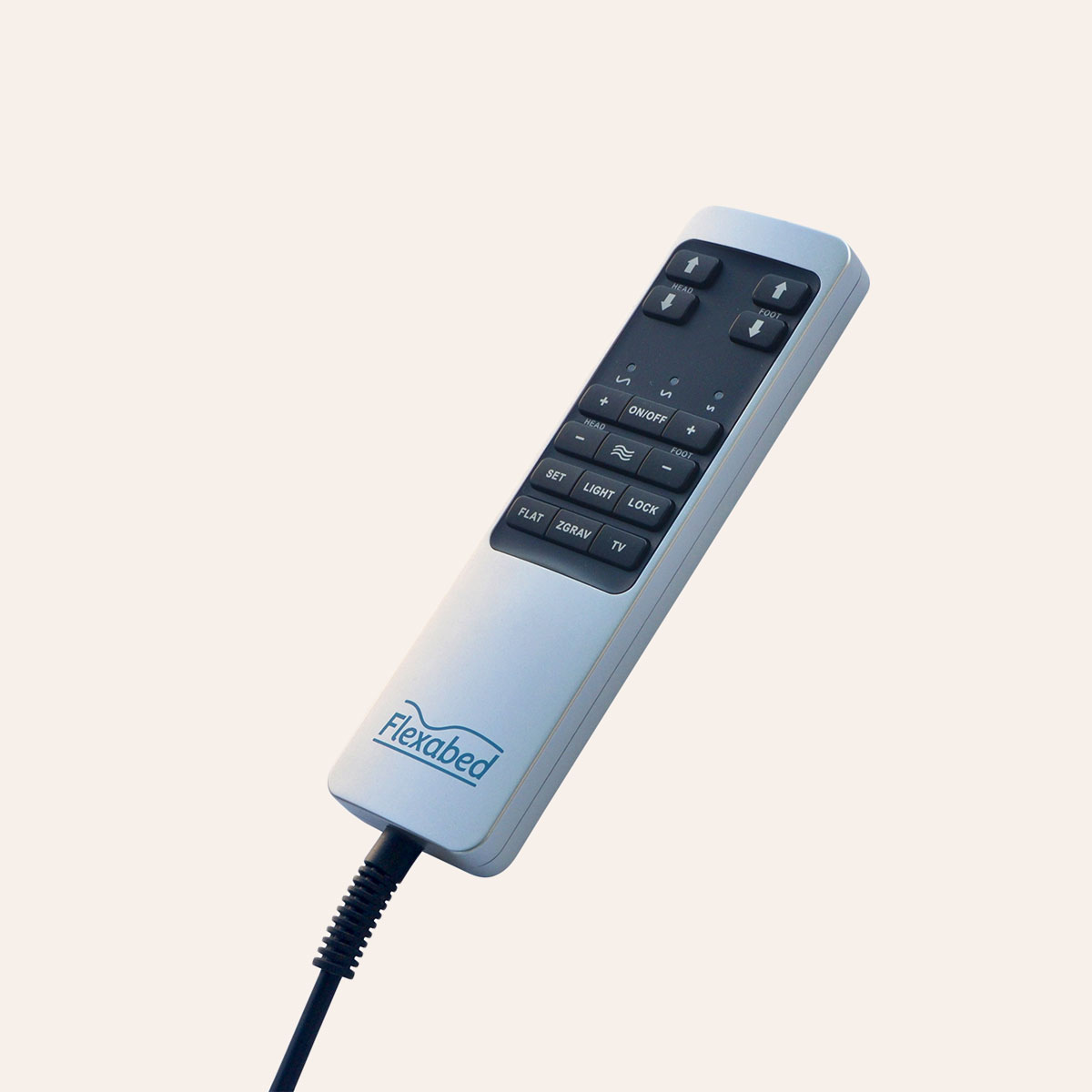 Flexabed's Convenient Premier Remote Control Makes Finding Comfort Simple
Premiere Remote Control
---
It's never been simpler to find your perfect position for sleep, lounging, reading, healing, and more. Control your Flexabed luxury adjustable bed with ease with the included handheld remote control. This remote features easy push buttons and controls that allow you to experience the full functionality your bed has to offer. Three programmable Memory Buttons, "M1, M2, and M3," are included, allowing you to save and store preferred bed settings you can easily return to whenever you choose with the simple push of a button. This convenient remote also features a "LIGHT" button to turn the under-bed lighting on and off, and a "FLAT" button to easily restore the bed to its neutral, flat position.
Easily raise and lower the head or the foot of the bed with easy touch controls. Other remote features include the Massage Wave Mode Selector, Head Massage Intensity, Massage ON/OFF, and Foot Massage Intensity. Choose between wired and wireless hand controls.
*If you did not select optional add-ons with your bed, the buttons will be present on the hand control but will not function.
Order Now
true
What They're Saying

I am the user, 65, with Multiple Sclerosis. The bed is easy to use and works perfectly. The price and installation were exactly what I needed. The perfect tool for disabled folks.

Lela C. from Tigard, OR

A great buy. Bought for my 83-year-old mother and she is very pleased with this bed. It is easy for her to get into and is very comfortable for her. It is easy to move around because of the wheels and easy for my mom to work the controls.

Gail P. from Phelan, CA

I am 65-year-old caregiver. I needed a good night's rest, and the adjustable bed has done that for me. I would never go back to a regular bed. The Flexabed Value Flex is a good deal for the money. I love the head and leg adjustments for reading and watching TV.

Gary D. from Brooklyn Park, MN

I love this bed. It seems to be everything I need.

Christine E., NC

My doctor told me to look into the Flexabed Premier Adjustable Bed to get a good night's sleep. Easy to use.

Elaine D., Dysart, IA

This bed is so comfortable and easy to use. My husband is able to sit up when he needs to without disturbing me.

Lee Anne C., Casper, WY
Find a Dealer
Enter your address or zip code below.