Having a great mattress is critical for getting good sleep, and we all know how vital sleep is to our overall health and wellbeing. Even so, millions of Americans suffer from poor sleep. In fact, according to the CDC, 1 in 3 adults don't get enough sleep each night. But what if part of the problem is the mattress? We're here to tell you that sometimes that IS the sum and substance of sleep problems. Here are a few signs that it is probably time to replace the mattress you're sleeping on.
SIGN 1: Your Mattress is More than 7 Years Old
So how often should you replace your mattress? This will depend somewhat on the mattress quality and type, but generally speaking you should replace your mattress at least every 7 to 10 years. Certain factors can contribute to wear and tear on a mattress, including how you sleep, if you sleep alone or with a partner, and your size and weight. Regardless, mattresses are not manufactured to last forever, and if your mattress is older than 7 years, well then it's time to replace that thing.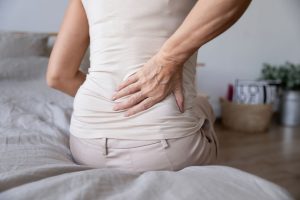 SIGN 2: Your Mattress is Uncomfortable
Mattresses are meant to be supportive and comfortable. You may be fully aware that your mattress is no longer doing the trick, or offering the support and spinal alignment necessary for a comfortable night's sleep. Conversely, you may have just adapted to sleeping on a subpar mattress simply because it's what you're accustomed to. Either way, if you stay in a hotel or at a family member's home and wake up thinking, "WOW! That was the best night's sleep of my life!"– that may be a good indication that your old mattress could use an upgrade. If you're not comfortable, you're not going to sleep your best. Period.
SIGN 3: You're Experiencing Soreness and Back Pain
Did you know that poor sleep can contribute to chronic back pain and other problems? If you consistently wake up sore and stiff, that could be an indicator that your mattress is a problem. One great way to assess this is see if your soreness and pain persists throughout the day, or if it is more isolated to when you first rise, and tends to subside after you get up and get moving.
SIGN 4: Your Mattress Sags
If you can visibly detect wear and tear, dents, and irregularities in your mattress, the time is nigh to replace that bad boy. If your mattress has springs, you can check those for sagging and signs of breaking down. Pay close attention to the area where you sleep, looking for sagging, as well as the edges of the mattress for obvious wear and tear. Foam and pillow top materials– as most things– break down over time, and become less supportive. These factors will tell you when it's time to go mattress shopping. (Side note: we can totally help with that!)
SIGN 5: You're Sneezin' Not Sleepin'
None of us like to think about it, but the truth is– you're not the only thing resting in your bed. Your mattress is home to all sorts of things from sweat and skin particles to dust and a whole host of other allergens. According to a study conducted at Ohio State University, a typical used mattress can have anywhere from 100,000 to one million dust mites inside. YIKES! Yet another reason to replace your mattress periodically.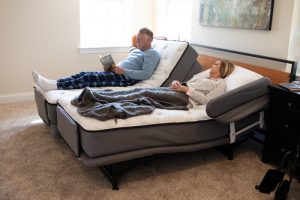 Have you ever thought about the fact that we spend approximately one third of our lives in bed? Not only is good, healthy, and restful sleep imperative for proper brain function and overall wellness, but also, it's something we spend a great deal of our time doing. So if it's time for you to replace that mattress, our team at Flexabed would love to help you upgrade to one of our handcrafted adjustable mattresses. And the way we see it, there was never a better time to start getting the best sleep of your life. Contact our incredible team today, and start reaping the benefits of incredible sleep.
What's more is, our Flexabed Hi-Low SL and Premier beds boast a Limited Lifetime Warranty. That means when it's time for a new mattress, you can ship your mattress back to us or bring it by the factory, and for $100, we will recover and refurbish the mattress or adjustable foundation.
You can also customize your mattress, and know it's backed by our industry-leading warranty for total peace of mind. Find your perfect mattress today.