We love reading reviews of Flexabed products like the one we just got from Stuart Bacon:
"We got the Flexabed Premiere due to acid reflux. The bed is very comfortable, and each of us can adjust it separately as desired. Foot elevation helped reduce swelling after recent knee surgery. Highly recommended."
Such feedback lets us know that we are doing more than just making beds. At Flexabed, we are improving the quality of life for our customers by improving the quality of their sleep. In this blog, we will give a short overview of the 7 health benefits of adjustable beds.
Back Pain
Key to getting relief from upper body and back pain is achieving proper alignment of the spine. On a regular flat surface bed, you might add a bunch of pillows to try and compensate. Or you can simply invest in a Flexabed electric adjustable bed and use the handy remote to adjust the head or foot of the bed until the spine is properly aligned and the neck is in a more comfortable position. This also allows you to shift pressure points on the body in a way that traditional beds simply can't. Adding a memory foam mattress or other option to get just the right amount of firmness also relieves discomfort while trying to sleep. Learn more about how adjustable beds help relieve back pain.
Acid Reflux
Gastroesophageal reflux disease involves the stomach pushing acid used in the digestive process back up into the esophagus. If you suffer from this condition like Stuart the reviewer above, you know how unpleasant it can be. On a conventional bed, the body is positioned in such a way that acid reflux is more likely to happen, but by adjusting the head of a bed, gravity reduces the chances of acid reflux or an episode of snoring.
Mobility Problems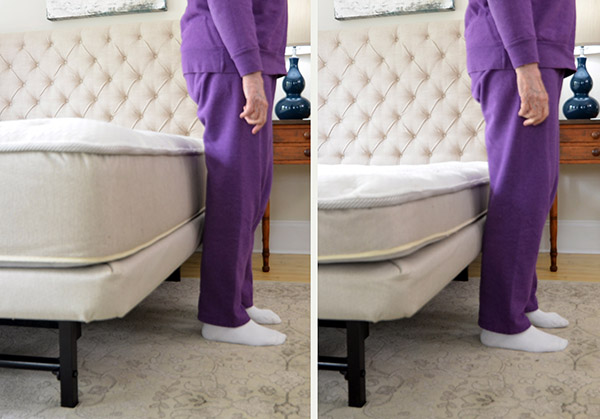 As Stuart the reviewer also pointed out, a Flexabed adjustable bed also helps those experiencing difficulty getting around the home after a surgery. The simple act of sitting up and moving legs from the mattress to the floor, then standing can require a major undertaking if the body is impacted by a recent procedure or a chronic health problem. The Flexabed Hi-Low is often referred to as a "luxury alternative to a hospital bed for the home" due to functionality that specifically helps users in such situations. With a low profile mattress and locking casters removed, the Hi-Low can get as low as 19 inches from the floor, making it far easier for someone to get in and out of bed. Transitions involving a caregiver helping you stand or moving to a wheelchair are especially helpful with this Flexabed model, which can also include optional side rails for added protection, dual timed massage, and more customizable features. While the Hi-Low works a lot like a hospital bed, it looks like any regular bed once you put sheets, pillows and a comforter on it.
Sleep Apnea
As with Acid Reflux, conditions of sleep apnea are improved by adjusting the head of the bed to reduce the likelihood of snoring and blocked airways. Gravity does the work, lessening symptoms of sleep apnea. Combined with a CPAP machine to increase airflow during sleep, a Flexabed adjustable bed can improve sleep quality for those individuals who experience sleep apnea.
Arthritis
A good night's sleep can seem nearly impossible when your body endures chronic pain from joint inflammation, but adjustable beds allow for easier position changes while you prepare to sleep. Using the remote control that comes with each Flexabed model, you can easily shift the position of your body to reduce pressure on arthritic joints. The massage function can also temporarily disrupt the pain signals that our bodies send to our brains, providing further relief.
Circulation and blood flow
We all benefit from improved circulation for relief of stress on the heart. Changing positions in an adjustable bed makes this possible and easy to accomplis. With the ability to elevate the bed's head or foot, there's less tossing and turning throughout the night and a reduction in aches and pains.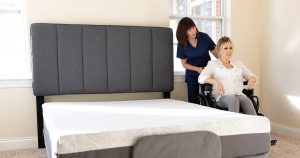 Insomnia
The lack of a good, deep sleep can lead to serious health conditions. A restful sleep is critical to our bodies functioning properly and "recharging" to tackle the challenges of the day. Sleep debt results in daytime fatigue and drowsiness, high blood pressure, weight gain, and possibly even heart disease. When you consider how much of our lives we spend sleeping, isn't it worth the investment to get a bed that will set the stage for the best possible night's sleep?
Recognizing the Health Benefits of an Adjustable Bed
These are just a few of the ways adjustable beds can help to alleviate suffering and lead to a better, more restful night's sleep.
We encourage medical professionals to contact Flexabed to learn more about Partnership Programs for their patients to experience a better night's sleep in a Flexabed adjustable bed and mattress.
---
Blog © 2018 Flexabed of Georgia | LaFayette GA 30728