One of the most common sleeping positions is on one's side. It's a misconception that using an adjustable bed won't work if this is your favorite sleeping position.

Are adjustable beds good for side sleepers?
Buying an electric bed with an adjustable head or foot of the bed makes perfect sense if you fall asleep on your back, but you may be more comfortable resting on your side, especially if this offers relief from gastric reflux, heartburn, or hernias. Side-sleeping can also offer the most rest for those who suffer from obstructive sleep apnea, as we covered in a recent blog, as well as those sleepers who experience neck and back pain, or pregnant women.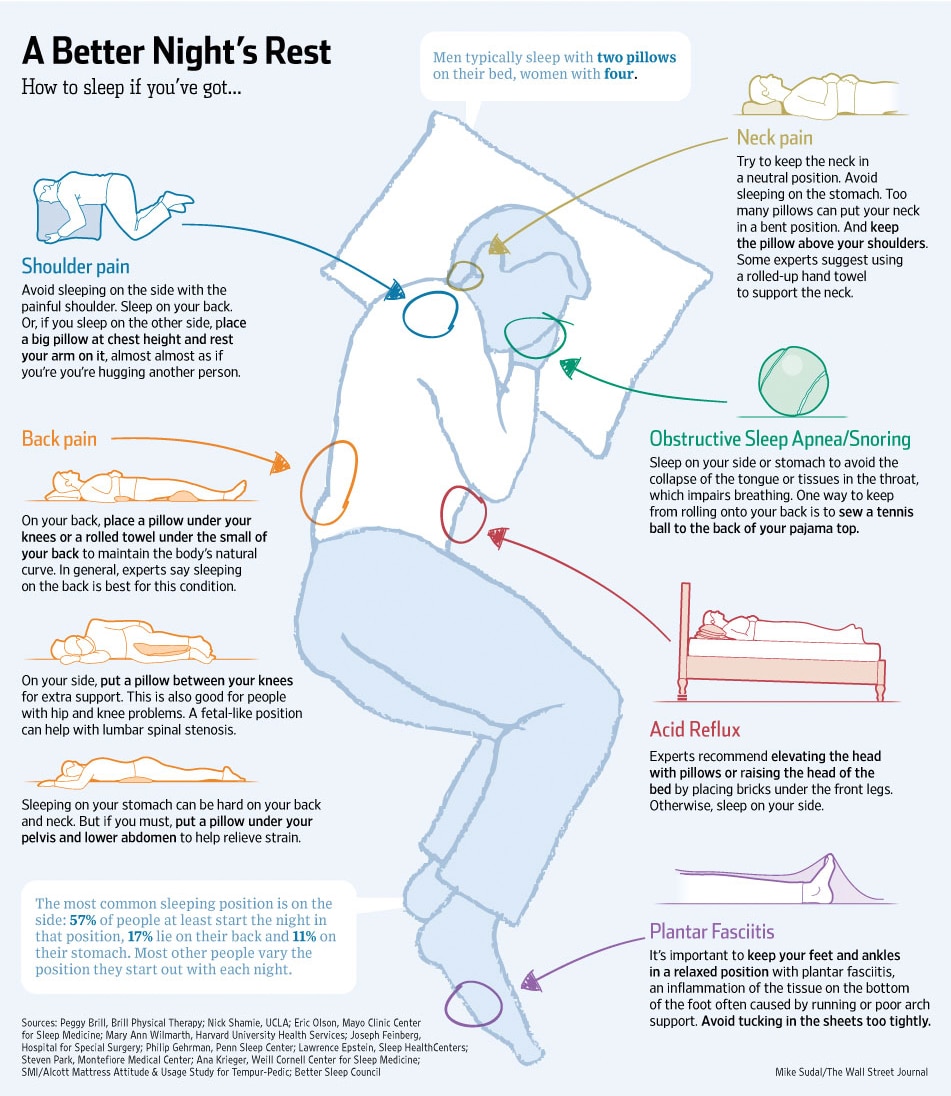 A graphic from The Wall Street Journal illustrates different sleeping positions and conditions they can address.
It's all about Pressure Points
Flat beds can lead to shoulder, hip, or neck pain as these muscle groups bear the pressure of the body's weight at contact points. An adjustable bed that contours to the shape of the body can remove pressure from the hips and shoulders, better aligning the head and spine. Raising the level of the feet can better regulate blood flow, giving our feet a break after bearing most of the pressure of our body weight all day long. Many people add pillows to even things out while sleeping in a flat bed. It only makes sense that being able to adjust the bed achieves the same effect!
Adjustable beds adjust to whatever YOU find comfortable
So are adjustable beds good for side sleepers? They can be if they use the remote control to raise the head of their adjustable bed until achieving the most comfort, bending the knees slightly and possibly raising the feet slightly.
Most of the promotional imagery you'll find for adjustable beds shows someone sleeping on their back, but this is mostly to illustrate how the elevated head or foot realign the body of someone, cradling them while they sit up to watch television.
The truth is that adjustable beds do not cater to any specific sleeping position – just the one you find most comfortable for you. That's one of their main selling points. You adjust it to whatever you find most relaxing so you can get a restful night of sleep and wake feeling refreshed.
Choose an adjustable bed mattress that offers the support you need
Flexabed adjustable beds like the Hi-Low can be customized to the desired height off the ground and give you a choice of soft, medium, or firm construction. Adjustable bed mattresses for the Hi-Low come in low profile, gel-infused memory foam, memory foam, latex, or combination innerspring/memory foam. The memory foam mattress cradles the body, easing the strain on pressure points regardless of sleeping position. It's easy to feel your body "melt" into the mattress.
Flexabed Adjustable Beds: Perfect for any Sleeping Position
To learn more, call us at (800) 648-1256, send a contact form message, or click on the envelope icon in the bottom right corner to speak to a representative from our customer support staff.
---
Blog © 2018 Flexabed of Georgia | LaFayette GA 30728