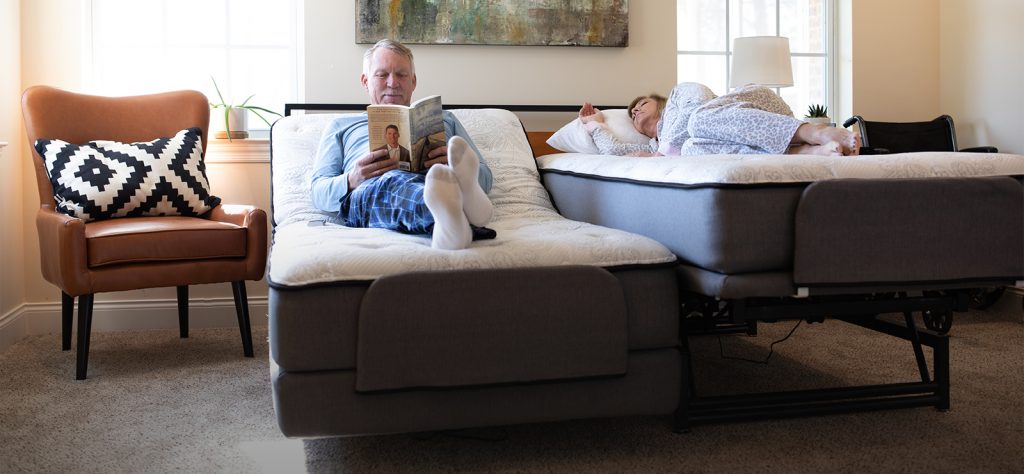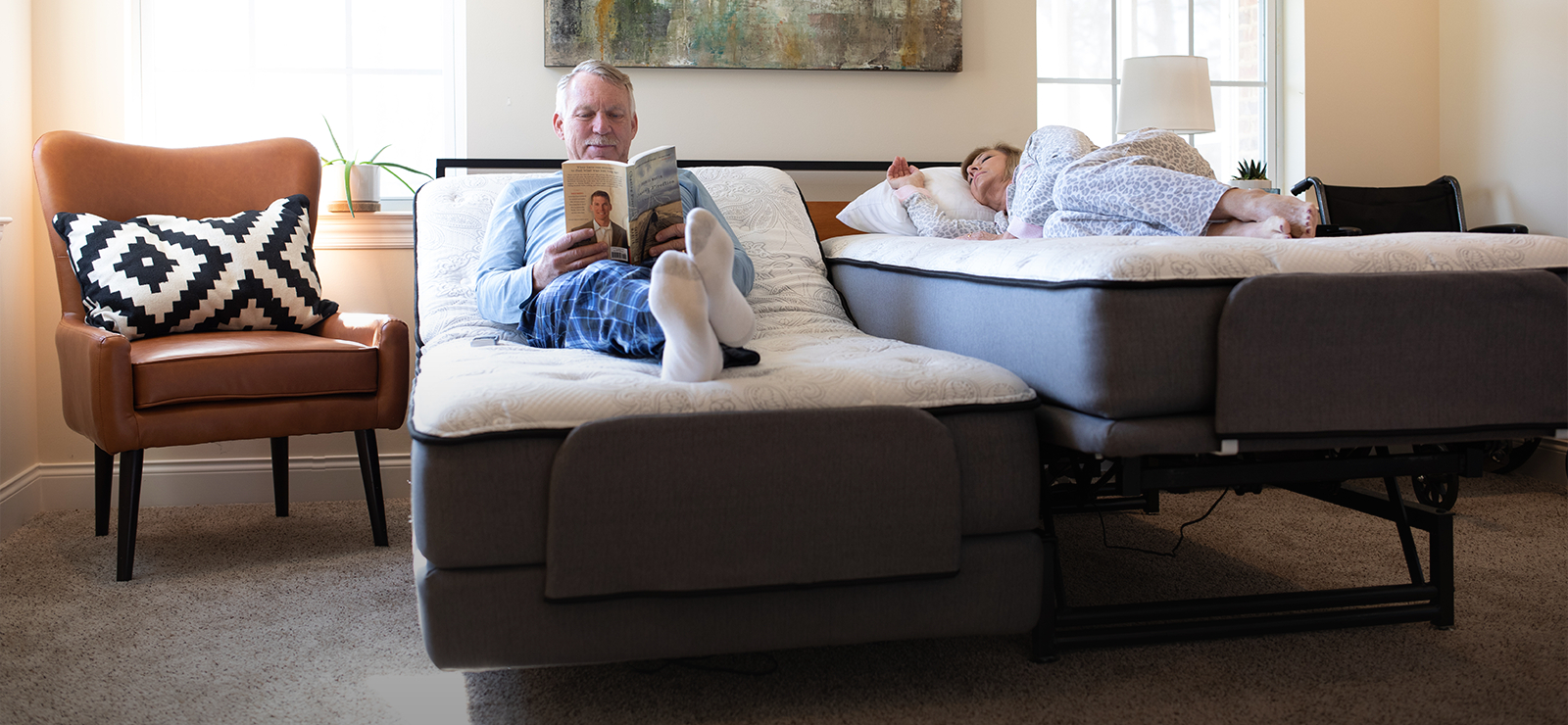 This Valentine's Day, stay by your partner's side in a split California king adjustable bed, one of our best adjustable beds for couples. This bed combines two twin adjustable bed bases with four inches of extra length (38"x84") to create a 76"x84" bed crafted specifically for taller husbands or wives. Adjustable beds have become a popular solution for many people needing help with mobility, and the split California king adjustable bed is perfect for taller partners.
Independent controls allow each partner to adjust their own side to suit their needs. By providing each partner with their own mattress, a split king prevents motion transfer from tosses and turns on the other side. One partner's restlessness needn't keep the other one up anymore. Similarly, it is possible for one person to have their head slightly elevated while the other can sleep flat on their back. This is perfect for couples where one is a night owl who enjoys staying up reading or watching television while the other turns in early.
Support Your Partner with a Bed That Supports Them
At a glance, you might not even notice these beds are adjustable thanks to their classic design. This is especially true with the Premier model, which features Advantech® material that will not warp, break or squeak. Thick and luxurious, our Premier split California king adjustable beds feature a tack and jump pattern with a suede border and designer-taped edges. The mattresses stay in place thanks to a foot retainer and locking canisters, complete with a cover, helping to create a comfortable king-size sleeping area while also remaining visually appealing.
The Hi-Low SL model, our luxury alternative to a hospital bed, is a great solution for those that could use a little extra support from their bed. These models feature an adjustable height that makes it easier for one partner to transition the other in and out of bed. This type of bed can greatly improve a husband or wife's quality of life, especially if their primary caregiver is their loved one right next to them.
Enjoy a Split California King Adjustable Bed for Couples
With Lifetime Limited Warranties, ergonomic one-touch wireless or wired controls that can operate whisper-quiet motors, and soft, medium, or firm mattress construction in a range of styles such as low profile, gel-infused memory foam, memory foam, latex, or a combination of innerspring and memory foam, any couple is sure to find the perfect bed for both sleepers (regardless of their height).
Flexabed's split California king adjustable beds offer superior convenience and value while ensuring taller individuals receive the relief and support they need. Not only are they designed to blend in with any home environment, but they can also be adjusted to meet individual needs. Thanks to split California king adjustable beds, you won't have to compromise your sleeping experience for the one you love!