Flexabed– More Than A Bed
Did you know that the average person, assuming they sleep an average of 8 hours a night, will sleep for approximately 230,000 hours over the course of a lifetime– or more simply put one third of their life?
Let that sink in. You spend roughly one third of your life in your bed. If that's not motivation enough to ensure the bed in your life is up to snuff, well, we don't know what is! But beyond sleep, your bed has the potential to add a lot of positives to your life and overall wellness, and the team here at Flexabed sees that as an area in which we can serve you.
A Haven
Your adjustable bed from Flexabed is a place to sleep, but it's also a haven. Your entire bedroom, really, presents you an opportunity to create a space that's designed specifically for rest, relaxation, and enjoyment. Purchasing the right bed can work wonders in helping you achieve that. It can be a part of your space in which all your stresses from the day fall away, where you can recoup, reenergize, regenerate, and maybe even relive life's best moments in some sweet, sweet dreams.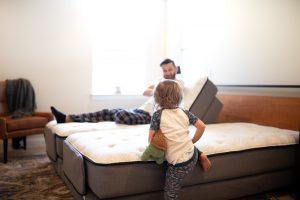 A Hub for Fun
There's a lot we do in our bets outside of sleeping. Maybe you like to read in bed, or watch television. Maybe you cuddle with your significant other, your children, or even your pets. Your bed could be the site of a family movie night, especially when you have an adjustable Flexabed. Everyone can snuggle in, get comfortable, and snack on popcorn till the credits roll. The point is, lots of meaningful moments can happen in the bed, so make sure yours is a great one. (And you know we can help with that.)
A Place to Recoup
Your bed is also where you go when your body needs to recuperate from illness or injury. When you're sick, you need a comfortable place to rest and get better. If you get hurt, you'll also rely on your bed to provide you a space to heal and regain your strength. When that bed is a Flexabed adjustable bed, you'll truly be amazed at how luxurious it feels. Totally customizable, configurable to your exact specifications and personal preferences, and with the ability to elevate the head or the foot of the bed when necessary– you'll almost never want to leave this bed.
No matter what, the fact remains that we all spend a lot of time in bed. We deserve to have the best in that area, and the potential for improved quality of life is exponential. So we leave you with these thoughts:
Take the initiative to get the best sleep you can, your body and brain will thank you.
Take the initiative to create a bedroom that promotes great sleep, relaxation, and joy.
Take the initiative to prioritize great sleep, active stress management, and don't forget to enjoy that third of your life you spend on a mattress.
Browse our line of luxury adjustable beds with endless customizability, and change your life today. Don't hesitate to reach out to our team with any questions, or for help finding the best Flexabed adjustable bed for you and your lifestyle.