This Spring, help mom and dad get a great night's rest with a luxurious king size innerspring mattress! At Flexabed, our specialty is creating adjustable beds designed to improve comfort and convenience, and we offer two innerspring selections for those beds (or to purchase separately).
Our innerspring and innerspring / memory foam combo mattresses are both available for Premier and Hi-Low SL models, with the innerspring also being an option for our Value Flex beds. So help Mom and Dad enjoy Spring in the most relaxed state imaginable on the best springs money can buy!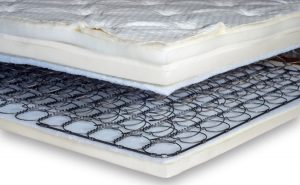 Our innerspring mattresses offer a great range of potential benefits, especially for those who suffer from back pain or joint pain. Thanks to the Flexabed technology that is behind the design of our mattresses, the springs offer the perfect combination of extra-responsive support and motion isolation for those who need it. In addition, the durable, supportive surface provides comfort and stability right where it's needed most, at the major pressure points– shoulders, hips, and knees.
This unique combination of responsive coils with supportive cushion filling enables innerspring mattresses to remain firmer than other types while still providing unbeatable comfort. With all these aspects working together in tandem, it's no surprise that innerspring mattresses are one of the most established types of mattresses on the market today.
If you're looking for a mattress that can adapt to your parents' sleep position, an innerspring/memory foam combo is an excellent choice. Not only is it softer near the top, but it also provides plenty of support where needed through the innerspring core. It is especially ideal for people who tend to get hot when sleeping as its more open design promotes optimal airflow and keeps sleepers cool throughout the night.
Our innerspring/memory foam mattress has a multi-layered quilted topper and solid non-slip base, which provides maximum comfort while allowing the mattress to move along with the bed frame's movement. If your parents struggle to stay cool during sleep or find themselves shifting positions often, this combination is a great option.
Spring for a Flexabed for Mom and Dad
Flexabed offers customers an extensive selection of mattresses when it comes to comfort and affordability. Again, our innerspring/memory foam combo is available in Premier and Hi-Low SL models, allowing for a range of firmnesses and making for an excellent option for sleepers with joint issues.
Additionally, our innerspring mattresses are durable, easy to customize, and come in three options – Premier, Hi-Low SL, and Value Flex – so that you can find the perfect one to meet your parents' unique needs. Each mattress is made with quality materials to help them get a good night's rest every night. A comfortable mattress from Flexabed means investing in years of restful nights, so this Spring, why not spring for a king size innerspring mattress for Mom and Dad?