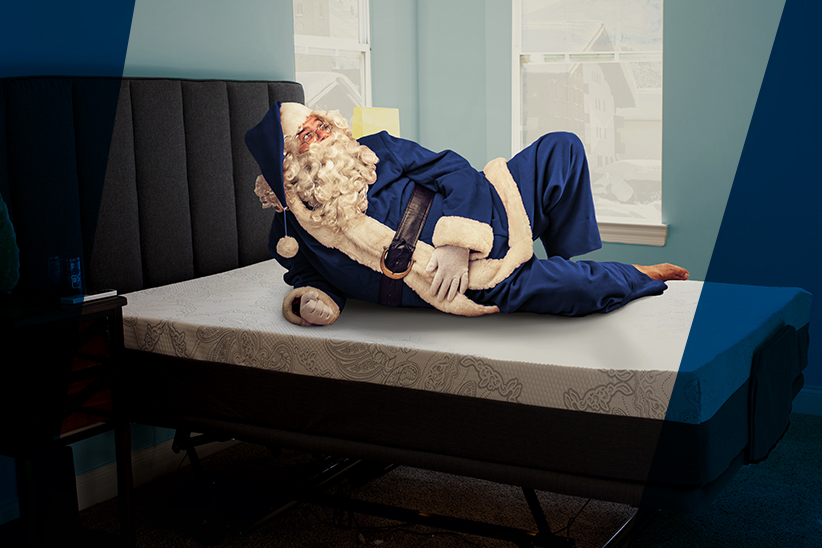 Our Hi Low adjustable bed is one of our top selling items, and it's not hard to see why! Our team at Flexabed has spent more than half a century developing premium sleep products that are designed to promote the best rest possible for our many customers. Flexabed's feature-rich items, like the Hi Low bed, are fully customizable and luxury, giving customers access to the rejuvenating sleep they need to live their very best lives. This holiday season, we want to highlight this incredible product in all its glory.
The Features of the Flexabed Hi-Low SL will Sleigh You!
The simple touch of a button raises and lowers the bed base vertically for incredible accessibility.
You can sleep next to your loved one, even if you have different sleep needs, with the dual king option.
A luxury alternative to hospital beds for home, it's ideal bed for those in home health care or assisted living environments
Various mattress options are available to meet differing sleep needs.
A Limited Lifetime Warranty ensures the product's value.
Is it Time to Upgrade Your Bed?
If it's been a while since you've replaced your bed and/or mattress, don't sleep on the amazing Flexabed Hi Low, or yule be sorry! (See what we did there?) Actually, DO sleep on it…but in all seriousness, whether it's for yourself or a gift for a loved one, the Flexabed Hi Low bed is potentially the greatest gift this season could bring. Great sleep is paramount, and it's what allows us to achieve our best health, feel rested and ready for each day, and have the sweetest dreams– hopefully involving visions of sugarplums dancing.
Eat, Drink, Be Merry, & Sleep Like a Baby
This holiday season, add another activity to the long to-do list– get great sleep! A new bed arriving in your room couldn't be more perfectly timed than during the wild rush of the holiday season. Easily the most chaotic time of the year, these final months come with parties, family gatherings, rushed shopping, tons of cooking, preparing to host guests, and often out-of-town trips to visit family far and wide. The single most important thing to keep you healthy and ready to take on the holiday season is consistently restful sleep. Make sure you're set up for success on that front by upgrading your bedroom with an adjustable bed from Flexabed. The Hi Low is a popular choice, but we have a full line of products to meet the various sleep needs of our clientele.
At Flexabed, we are passionate about great sleep, great customer service, and manufacturing the best quality adjustable beds on the market today. Experience the Flexabed difference for yourself just in time for the holidays. Why? Because you deserve it!