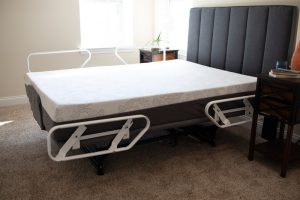 Great sleep is important, but it's hard to achieve that in the wrong bed. Let's face it, if you're over the age of 30, you've probably dealt with some degree of back pain in your lifetime, and you know how debilitating it can be. Waking up with back pain is the epitome of starting your day on the wrong foot, but what if changing your sleep set up could help to eliminate or at least diminish that back pain? If you're looking for the best mattress for back pain look no further than Flexabed, they might be able to help.
Finding the Right Mattress
There are a lot of factors to consider when you're shopping mattresses and adjustable beds. Finding the right mattress for you that addresses your specific sleep needs and preferences, in a lot of ways, comes down to personal choice. That said, if you're looking for the best mattress for back pain, there are some things to think about when you make your selection. Finding a mattress that is engineered to possibly provide pressure relief and support for your spine is a great place to start.
There are a few things to look for in a mattress if you suffer from back pain, and they are as follows:
Support: If you deal with back pain regularly, it could be beneficial for you to sleep on a supportive mattress that helps you maintain spinal alignment throughout the night. Correct alignment should support the natural S curve of your spine, keeping pressure off your back. If your mattress doesn't offer the necessary support, your hips and other body parts could sink too far into the bed, possibly creating misalignment that often results in back pain.
Firmness: When it comes to mattress firmness, there is no one-size-fits-all option. The firmness of your mattress will depend on how you sleep. But also for those with back pain, that "the firmer, the better" rule may not necessarily apply. A too-firm mattress might not provide the necessary spinal support through contour that other mattress options can.
Mattress Type: Mattresses that incorporate memory foam can potentially help alleviate back pain by cradling the body, relieving pressure points that can become painful after a night's sleep. At Flexabed we offer a range of mattress types engineered to accommodate the comfort of all types of sleepers. Learn more about those mattress options in our blog about choosing the right mattress for you. At the end of the day, your comfort is what matters most. If the mattress doesn't feel comfortable for you, odds are, it's not the one.
Memory Foam and Latex
The mattress types most commonly recommended for sleepers with back pain are memory foam and latex. Both of these mattress options offer exceptional support and contouring that might help to keep the spine aligned and happy. The memory foam and latex mattresses work with your body's natural curves to support you for restful sleep. If you are dealing with daily aches and looking for the best mattress for back pain, it might be time to reevaluate your current setup, and see if a Flexabed helps!