Father's Day is almost upon us, and it's our chance to show our dads just how much they mean to us. It's hard to adequately thank the guy who did everything for you, who was always there. It's also hard to shop for the man who has everything! So this year, help him celebrate Father's Day with the best night of sleep he's ever had– in his very own Flexabed adjustable bed.
1– Help dad sleep like a baby.
Your dad, regardless of his age or medical condition, can get the best rest he's ever had in one of our luxury adjustable beds. A wonderful and upscale alternative to hospital beds, Flexabed's line of adjustable beds is fully customizable, extremely comfortable, and available with a wide range of specifications that can render it the perfect match for your dad and his unique sleep needs.
2– Adjustable beds are good for Dad's health!
Adjustable beds can help promote healthier living. Did you know that elevating your feet may help increase blood flow? This may help to improve overall circulation and blood flow, healthier brain function, mental clarity, increased productivity, and might even help manage stress levels. Adjustable bed bases may also relieve back and leg pressure, and even reduce snoring and acid reflux! Need we say more?
3– Host perfect for movie nights
With a Flexabed in his room, dad can host the best movie nights ever with his kids or grandkids. Everyone can pile up in the super-comfortable adjustable bed perfectly configured for optimal viewing pleasure. Pop the popcorn, and cue the flick of choice. Just be careful you don't fall asleep from being too comfortable!
4– Clout!
Give your dear ol' dad something to brag to his friends and neighbors about. When you get him a fancy Flexabed adjustable bed this Father's Day, he'll be the king of the hood. Not only will your father sleep better, and enjoy the myriad benefits of having a luxury bed at home, but also he'll get to croon about it to anyone who'll listen. The gift of an adjustable bed will also serve as a great reminder of just how much you love him.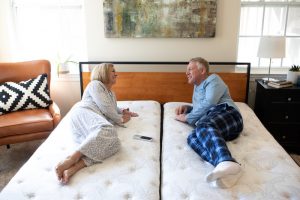 5– Mom will love it too!
A Flexabed for Father's Day is a gift for mom too! This two-for-one situation could mean better sleep and health for both of your parents– and potentially less snoring. They'll just love the comfort and customizability that comes with owning a Flexabed. Our king beds are made up of two twin mattresses paired side-by-side, so Mom and Dad can pick the mattress that best fits their specific needs, while still being able to sleep in the same king bed. They will have the ultimate good night's sleep – like they've never known before!
Learn more about our amazing adjustable bed options, and figure out which is just right for your dad this upcoming holiday! Of course, feel free to reach out to our amazing team with any questions. We're always happy to help. If you're ready to take the plunge and get dad a gift to remember, contact a dealer today. And to all the dads out there, Happy Father's Day from the Flexabed team!