Flexabed – Your Luxury At-Home Alternative
In most situations, a hospital bed isn't necessary, but the features they provide sure would be nice. A Flexabed Hi-Lo adjustable bed is a luxury alternative to a hospital bed and may help improve comfort and relieve pain for you or your loved one. These beds could also provide multiple lifestyle benefits that could help improve your or your partner's sleep.
A Better Solution Than Earplugs
Do you or your partner snore? It can be embarrassing for the snorer and infuriating for the partner. It even drives some couples to sleep apart for the sake of shut-eye. A big benefit to an adjustable bed is that it could help reduce snoring, all you have to do is elevate the position of the snorer's head slightly. Snoring is caused by tongue and soft tissues narrowing airways, which easily happens when sleeping flat on a bed. Elevating the head enables air to flow more freely.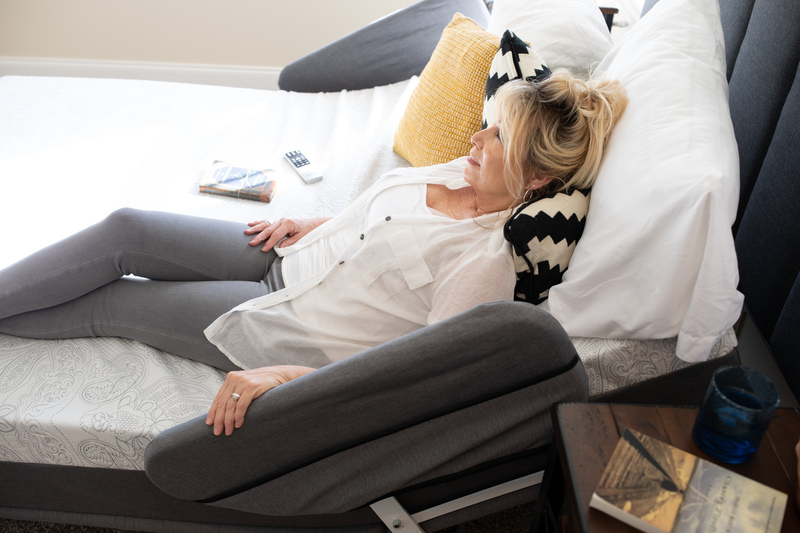 Be More Comfortable Before Bed
If you enjoy watching TV before bed or reading a book while your partner sleeps in, you can do activities like these with ease on a Flexabed adjustable bed. Easily adjust the position of the bed to raise your head and see the television, and maybe also bring your feet up a little to reduce back pressure while you're at it. No more straining your neck or shoulders when trying to relax, and no more strategically placed pillows.
Massages On-Demand
One luxury feature that a Flexabed offers that a hospital bed lacks is our optional massage add-ons. Recline in your adjustable bed and enjoy a massage while you unwind. Control the intensity of the massage with your remote control and feel your body loosen up after a long day at work. For split bases, couples have the benefit of personalized relaxation and massage options.
Some GERD News
If you or your partner has Gastroesophageal Reflux Disease (GERD), a Flexabed Hi-Lo bed could be a good way to get a better night's sleep. By sleeping with your head and body partially elevated, gravity will help keep your stomach down (literally) and could prevent heartburn. Or, if you regularly have swollen legs or feet, an adjustable base can adjust your position so your legs are slightly elevated.
Flexabed: Luxury Alternatives to a Hospital Bed
An adjustable bed could drastically change the way you sleep. If you're looking for the best night of sleep possible, a Flexabed just might help you find it. To learn more, call us at (800) 648-1256 or send a message through the contact form on our site with any questions or concerns.