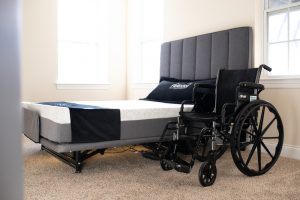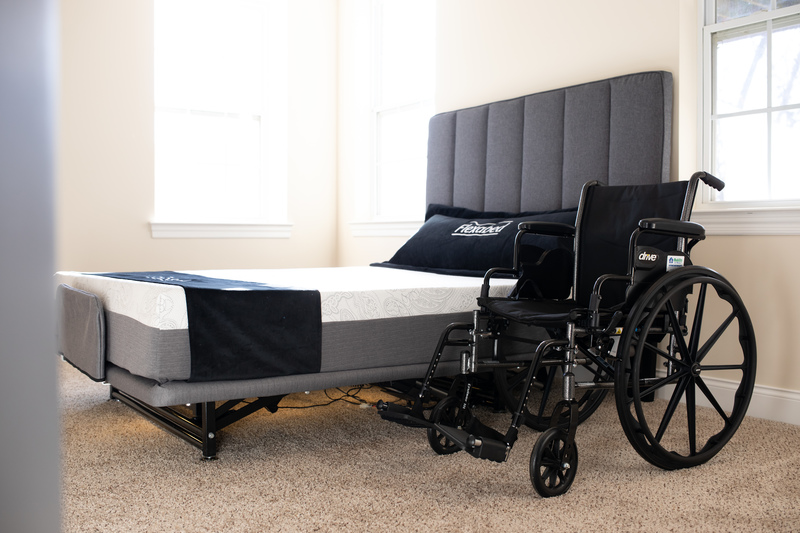 Unlike traditional beds, hospital beds provide a greater level of comfort and support with various features that make them more accessible to people with evolving care needs. If you or someone you love is in need of a hospital bed for home care, our luxury adjustable beds at Flexabed offer a unique and ideal solution, specifically our Hi Low SL adjustable bed. Below we will detail a few reasons why our Flexabed Hi Low SL makes a great asset for anyone looking for the best hospital bed for home.
Electric Motor for Easy Adjustments
One important feature for any hospital bed for home is just how adjustable it actually is. Part of the draw of having a hospital bed for home is being able to quickly and easily adjust the bed to suit your needs. The Flexabed Hi Low SL features a whisper-quiet electric motor and a remote control that makes adjusting the bed simple. Getting comfortable has never been easier!
Extreme Lowering Capability for Ease of Access
Another important feature for any hospital bed for home is its lowering capability. Whether the bed is for a senior who may struggle to get in and out of bed easily or someone with an injury or illness that affects mobility, the ability to lower the bed makes it significantly more accessible for the user. The Flexabed Hi Low SL actually goes lower than any other bed we've ever manufactured. When paired with a low profile mattress, this bed can lower to an astonishing 16.5" from the ground, making it incredibly accessible for those who struggle with mobility.
Completely Customizable
Just like the rest of the Flexabed line, the Hi Lo SL can be completely customized to suit the user's unique preferences. There are a slew of add on feature options to expand the functionality of the bed, and myriad ways to make it totally your own.
Luxurious Comfort
Whether you're a senior or recovering from an injury or illness, comfort is paramount. Feeling comfortable and stress free can play a large role in one's overall wellbeing, and in recovery as well. When it comes to comfort, Flexabed certainly delivers. With a wide range of mattress options and the customizability previously mentioned, we're confident that anyone can find their best relaxation and sleep in a Flexabed.
So if you're looking for a hospital bed for home for yourself or for a loved one, we hope you'll consider Flexabed as a great option. We're confident that this bed can greatly improve sleep and overall quality of life for sleepers of all ages and with all types of sleep and personal care needs. Learn more about the Flexabed Hi Low SL on our website, and about our other product offerings as well. Home care has never been easier.