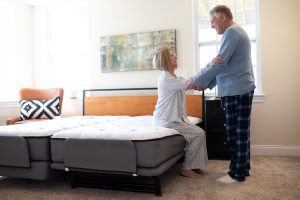 So what's in a bed? A lot, actually. Your bed is your haven. A place where you rest at night, nap when you need it, recuperate from illness or injury, or recover from surgery. At Flexabed, we believe that your bed should be perfectly suited for you, tailored to meet your unique sleep needs, and ultimately improve your quality of life.
We also understand that as we age, our needs evolve. We may not get around as easily as we once did, or it may be difficult to get into and out of a bed that is stationary. That's where our Flexabed Hi Low SL comes in, serving up all the best features that make it the ideal bed for the elderly at home.
If you're in a position to require a hospital bed at home, or you have a loved one who is, you're likely looking for the best possible option– one that will be comfortable, adjustable, accessible, and easy to use. Our Hi Low SL bed is a perfect choice for older sleepers, people with mobility issues, and really just anyone who appreciates customization and convenience. This bed is teeming with features that render it the ideal luxury alternative to a hospital bed for home.
A Little More about the Hi Low SL
Whether the bed is for you or for a loved one, comfort is paramount. With the Hi Low SL, as with our other Flexabed models, you can select the mattress option that makes most sense for you and your preferences. Also, the Hi Low SL is our adjustable bed that offers the most support for those with mobility issues. The base lowers down to the ground to an impressive degree, with just the simple push of a button, and when paired with a low-profile mattress, can get as low as just 16.5" from the ground. This means that getting into and out of bed is easier than ever before.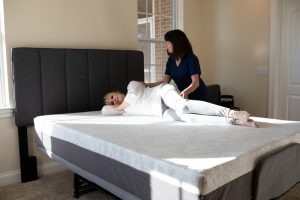 Hi Low SL Features:
As mentioned, the simple touch of a button raises and lowers the bed base vertically for incredible accessibility.
You can sleep next to your loved one, even if you have different sleep needs, with the split king option.
A luxury alternative to hospital beds for home, it's the ideal bed for those in home health care or assisted living environments.
Various mattress options are available to meet differing sleep needs.
A Limited Lifetime Warranty ensures the product's value.
The Comfort They Deserve
For those in hospice care, or receiving care at home, for those who don't get around as easily as they once did, for those who can benefit from the features of adjustable beds, check out the Flexabed Hi Low SL. This fully customizable, incredibly comfortable bed offers a caliber of accessibility unmatched, and it has the power to both change the way you sleep and the way you live. When it comes to beds for the elderly at home, it doesn't get better than this.