Flexabed, A Hospital Bed Alternative for Your Home

A hospital bed for the home could help you or a loved one get the most regenerative rest possible after an injury or in-patient stay. If you're adapting to mobility limitations, an adjustable bed might help you enjoy improved health and increased independence.
Provide safety for yourself or a loved one.
Flexabeds are home hospital beds that, unlike traditional beds, are designed to be compatible with other health care devices. Our beds make transferring to a wheelchair, reaching a bedside table, or getting to your mobility aid safer and more secure. Safety features like half-rails or full-rails can also be installed. These features lower the risk of falls and the complications they bring!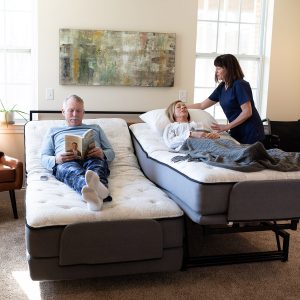 How does a hospital bed for the home help?
Not only could a hospital bed provide more safety than a traditional bed, but it also makes it easier to get in and out of bed too. Hospital beds have wheels so the bed can be moved to any area of the home. They also feature locks to make them stationary when they've reached their destination.
What are other differences from traditional beds?
Hospital beds for the home are equipped with unique hospital-grade mattresses that reduce the risk of pressure sores and ulcers. Their adjustability makes them more appropriate than a traditional bed, providing comfort and support while giving caregivers more options for delivering quality care.
Maximize your recovery with a hospital bed for home.
Sound sleep improves intellectual function, alertness, and mood. During a complete sleep cycle, your sleeping brain recovers from the stresses of daily life. Proper sleep contributes to feeling more attentive and upbeat while combating medical challenges. Explore our Flexabed accessories in order to make your hospital bed for the home best suit your specific needs.