5 Reasons to Fall in Love With Flexabed
With Valentine's Day, the holiday of love, just around the corner, we wanted to take time to highlight all the things there are to love about Flexabed's custom adjustable beds. Our luxurious and highly-configurable adjustable beds are the best of the best, and there are plenty of reasons to upgrade your sleep set up just in time for the month of love.
1– Customizability
Flexabed products are about as customizable as can be, so customers can have them hand-built to their exact preferences. Think about the power of a custom adjustable bed that is so craft it's like having a suit tailored to fit just right. No Goldilocks issues here, because Flexabed can be customized to be perfect for any customer. Customize yours today!
2– Comfort
We all know what it's like to lie in bed, tossing and turning in an effort to get comfortable, but custom adjustable beds make that comfort a lot more achievable. Flexabed beds can be endlessly configured to help sleepers achieve their perfect positions for comfort. Raise it, lower it, elevate the head, elevate the legs, elevate both– whatever feels best. Get comfortable with the push of a button. It's never been so simple! You can also choose from our six different mattress types for a custom-tailored bed that is just right for you.
3– Luxury
Handcrafted with only the highest-quality materials. Whisper-quiet motor and push-button controls. Programmable memory positions and optional wave massage. Crawling into a Flexabed is like being in the lap of luxury– the ultimate in customizable comfort. Our beds are even now made with new, luxurious fabrics that make them even more special.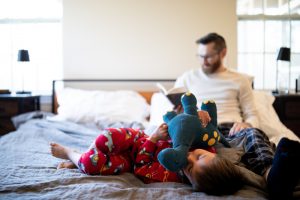 4– Multifunction
For some, a bed is not merely a place to sleep at night. For some, a bed is a sanctuary, a respite from the world. Maybe the bed is a place to read or snuggle with your kids. Maybe a bed is a place to recoup when you've been unwell or had surgery. Regardless, having a custom adjustable bed means more functionality and great ways to use it.
5– Made for Sharing
Sharing a bed with a partner can be equal parts endearing and frustrating. Maybe you have different sleep position preferences, or maybe one of you needs to have your head elevated to breathe better. Perhaps one of you likes to stay up reading, while the other wants to go to sleep immediately. Well, with the split king option Flexabed offers, you can share the custom adjustable bed with your loved one with the flexibility to still do your own thing. Each person can select their preferred mattress type, one could prefer the Premier and the other the Hi-Low bed– and with the split king configuration, that is completely achievable.
No matter how you dice it, there are many reasons to love Flexabed custom adjustable beds. From comfort to customizability to added functionality, Flexabed means better sleep and a custom kind of comfort anyone can benefit from. There's just so much to love.