The Dilemma: How to Choose the Best Adjustable Bed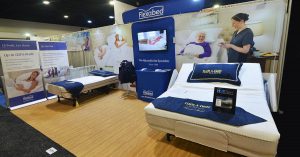 If you're in the market for an adjustable bed, how can you possibly know the best choice for the money with so many brands out there all stating theirs is the best adjustable bed? We presume that if you're researching adjustable bed brands on the market, you've already considered all of the pros and cons of an adjustable bed for yourself or a loved one. That's where most people start on the journey to transition from a conventional flat mattress to a motorized bed.
In this month's blog, we offer some suggestions for the weary shopper eager to find the best deal and begin the journey to a better night's sleep.
Things To Consider When Choosing an Adjustable Bed
Getting trustworthy information in the form of adjustable bed reviews, ratings & comparisons is not a simple matter of just Googling a "best adjustable bed buying guide" online.
Many web pages may be biased to favor a particular brand without making their association to a particular manufacturer clear (as we do when including Flexabed branding on our blog) or limit their product comparisons to a handful of the most recognizable brand names. That may prevent you from even knowing about smaller brands on the market offering adjustable beds.
We encourage you to research because we know Flexabed products measure up well against competing brands in terms of value, features, comfort, and durability. Please make sure you don't compare apples to oranges, ie, conventional/non-adjustable bed bases.
Among the things to consider when research adjustable bed brands:
Where to find information about Adjustable Beds
Manufacturer Websites – Perhaps you found this website by doing a keyword search of phrases like "adjustable bed brands", "alternatives to a medical bed", "adjustable beds for sale", "king size adjustable bed", "motorized beds", "flexible bed", "mobility beds", or some similar term.
Now that you've found us, we recommend you browse the pages dedicated to detailing our High-end, Mid-range, and Low-End product offerings, as well as how they compare in terms of features. You can also find out about our warranty so you know about that when considering Flexabed alongside any other manufacturers you consider. While useful to educate yourself, such sites will naturally portray their own products favorably while avoiding mention of competitors.
Home Health Stores – Another way people become familiar with adjustable bed lines is by browsing the demos and promotional materials in a dealership. Chiropractors also offer referrals of our product because of the positive effect on back pain and a better night's rest.
Retailer Websites – Online retailers can give you a lot of great information by providing visitors with the ability to rate and review products they buy, including adjustable beds and mattresses. Such reviews appear credible, yet the limited use of the products by these users makes for limited usefulness in considering longevity and comfort over a long period of time.
Buying Guides – These can compare products side-by-side, but such guides may be limited to a handful of makers who pour a lot of money into their brand awareness & advertising. Such guides should be transparent about helping people make informed sleep-product buying decisions rather than pushing select companies as part of their product research, even if they aren't the best options on the market. Some sources earn a commission off anything a person buys from an online retailer.
Personal Referrals – A friend who recommends Flexabed can give an idea of the average owner's experience while providing a typically unbiased, credible source of advice.
Remember: You're Buying More than Just an Electric Bed
Your owner satisfaction will reflect your happiness not only with the actual product but also with the ease of receiving and using it.
Authorized Flexabed retailers love selling our product because they're typically done with the process once their customers receive their beds. Users with questions can dial us directly at 1-800-648-1256 or send a chat message to our factory in LaFayette, Georgia if they need an answer.
Choosing an Adjustable Bed
Armed with this information, you're an empowered shopper. Whether you choose a Flexabed product or another manufacturer's product, we hope that your purchase leads to great comfort and satisfaction. To request a quote on a Flexabed product, call 1-800-648-1256.