One of the great challenges for couples when one partner becomes injured or ill is remaining able to sleep side-by-side. When you've possibly spent decades with your best friend and life partner next to you every night, the absence of that person stands out like a sore thumb and makes it difficult to get a good night's rest.
In hospitals, a husband or wife may sleep in a recliner next to their spouse as a sign of support for the patient being treated and because it's nearly impossible to sleep well with your "other half" removed. Once the healing begins at home, the physician may recommend a Flexabed adjustable bed.
The Split King Adjustable Bed Base Offers a Solution for Couples who want to Continue Sleeping Together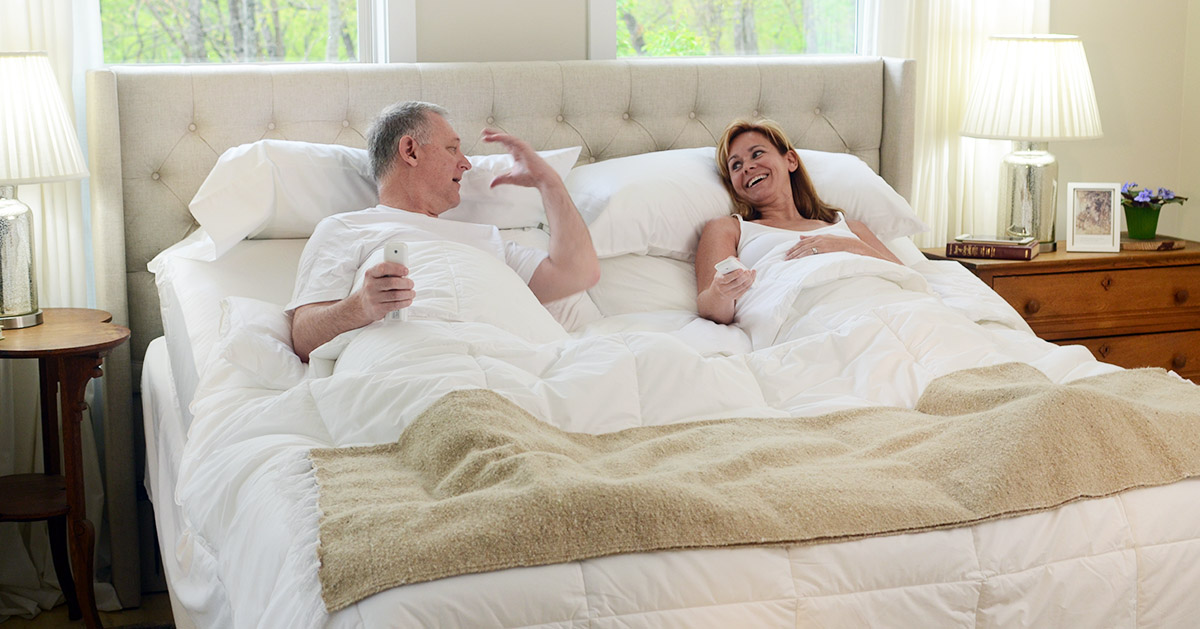 For a bedridden spouse or a partner recovering from surgery, the split king bed can greatly improve their quality of life, especially if their primary caregiver is the person right next to them. The adjustable height of the Hi-Low model (Flexabed's luxury alternative to a hospital bed) makes for easier transitions when one user needs to help the other with mobility issues get in or out of bed.
The split king adjustable bed is actually two twin adjustable bed bases with head and foot motors for independent control for each sleeping side using the wireless remote control. Twin mattresses combine to create a king-sized sleeping area confined by a foot retainer to keep them in place as the base is raised or lowered.
Locking casters are available, but furniture cups or a floor rug are recommended on wood or tile floors that are more prone to be slippery. The split queen version works by the same principle, using two mattresses 30-inches wide.
"Customers are thrilled to hear they have a split adjustable bed option because it gives them the ability to continue sleeping next to their partner," said Zane Lewis, President of New Leaf Home Medical in Allen, Texas.
"Roughly half of the customers who call us about getting an adjustable bed to meet the needs of a partner or spouse end up ordering the split king or split queen. These are customers in their 50s or 60s on up into their 80s who, for obvious reasons, would like to continue sharing a bed with their loved ones.
Just the other day, we had a 90-year-old woman whose husband had a stroke and called about an adjustable bed for him. Those are happy moments when we can help someone continue sharing the bed with their partner of more than 70 years," Lewis added.
NewLeaf typically receives calls from customers looking for hospital beds for the home or alternatives to medical beds.
"A hospital bed is typically 54-inches wide," Lewis said. "Some consider putting two hospital beds side-by-side, which isn't always practical and doesn't look good. Flexabed solved that need by providing the capability to function a lot like a hospital bed without looking like one. The safety rails provide some support on the side of the bed for the person with the medical need while the rails on the side of the healthy partner can be folded away."
Flexabed also offers the Premier model in split queen, as well as twin, full, queen, or California king sizes, with your choice of one-touch wireless or wired controls.
The Hi-Low model (Flexabed's luxury alternative to a hospital bed with adjustable height for easier transitions) is available in split king, twin, full, and queen sizes, also with your choice of one-touch wireless or wired controls.
The basic Value-Flex model with one-touch wired controls is available in split king and split queen sizes, as well as twin, full, and queen sizes.
One partner can sleep while the other person is eating, reading, or watching tv; the bed adjustments made by the motor are whisper-quiet, so the sleeping party does not have their sleep disturbed. Flexabed products are made with durable Advantech® material that will not warp, break or squeak.
Lewis said that his company sells roughly one-third of each model to its customers.
Because all of Flexabed's adjustable beds visually fit in with a home environment, unlike a hospital bed, there's no real need to switch to a different bed once the partner with mobility issues recovers from their injuries or illness, say, after completing physical rehab or healing from surgery. The couple can simply continue to use it as they would any bed.
The Flexabed Premier: A Great Choice Even if You're in Good Health
While the Hi-Low model is ideal for those in home healthcare or assisted living environments, and the Value-Flex offers an excellent choice for those who want the basics covered, the Flexabed Premier sets the standard for comfort and convenience.
Every amenity that Flexabed offers can be added to the Premier. It can be designed and built in hundreds of configurations. You don't have to suffer from arthritis or back pain to enjoy using the optional, dual-timed massage featuring wave and pulse technology at the back and legs. It relieves muscle tension with a soothing effect that makes falling asleep easy.
The Premier accommodates six different types of mattresses and fits existing headboards.
Another great benefit of the Flexabed Premier is the Lifetime Limited Warranty covering each and every component and design feature, including the mattress, without exception for the life of the bed. It's transferable, so it remains under warranty for the new owner if you decide to sell it or give the bed to someone else.
Continue Sleeping Next to Your Loved One on a Flexabed Adjustable Bed
To learn more about Flexabed's split-king and split-queen adjustable bed frames and how they can enhance life for couples in need of an adjustable bed, call our friendly and helpful staff at 800-648-1256 or leave a message on this website. We are happy to refer potential customers to quality dealers like Lewis offering Flexabed products throughout America. Visiting showrooms and home medical supply stores to touch and feel an actual Flexabed product can prove very helpful for customers in the market for an adjustable bed.