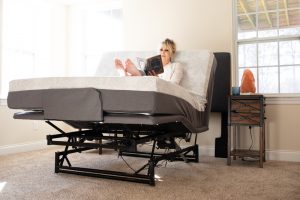 At Flexabed, we believe everyone deserves incredible sleep. We manufacture a line of luxury adjustable recliner beds that are varied and customizable so that every customer can find the perfect fit. Whether you're looking for a new bed for yourself or for a loved one, perhaps a parent, we're confident that we've got the right option for you.
From super low profile mattresses to latex, memory foam, innerspring, or hybrid, our mattress options offer enough versatility to ensure every sleeper can achieve their ideal sleep set up. That versatility also extends to our adjustable bed frames for customizable comfort unrivaled. The comfort and benefits you can reap from sleeping in a recliner bed are many, and we'll run through just a few of them below!
Pre-Bedtime Relaxation Station
Sometimes it can take a little effort and time to wind down after a busy day. That's where your Flexabed recliner bed comes in handy as the perfect spot for ergonomic, totally customizable pre-bed relaxation. Maybe you want to read a book or watch a little TV. You can take your wind down time to new levels when you find the right Flexabed.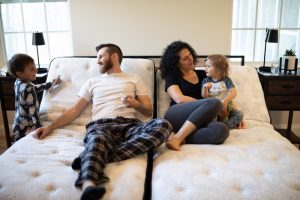 Potentially Alleviate Back Pain
Did you know that back pain is the single leading cause of disability worldwide? According to the American Chiropractic Association, back pain accounts for more than 264 million lost work days in just a year, which equates to two work days for every full time worker in the U.S. But what if having the ability to adjust the position you're in with the push of a button could alleviate some of that discomfort? Sleeping, and lounging, in a customizable adjustable recliner bed makes it easier to reduce pressure on your back by changing positions. Some even find that slightly elevating their feet helps to reduce lower back strain, allowing the lumbar area to more fully decompress.
Improved Circulation in a Recliner Bed
We all know how uncomfortable it is to have a foot or hand fall asleep. Also, if you regularly experience swelling in the legs and feet, you know that sometimes elevation can be key. When you have a comfortable and adjustable recliner bed, you can more easily adjust your position whenever necessary to improve comfort and encourage better blood flow.
If you're ready to start shopping for an adjustable recliner bed, check out our full line at Flexabed. Our side-by-side comparison makes it easy to figure out which bed will be ideal for you!