Perhaps you've seen the American Express commercial on TV in which actress & comedian Tina Fey overhears two other women discussing how pricy their ideal mattress is. She inserts herself into their conversation, loudly saying "Hi!" and tells them that they can't skimp on beds that recline because that's where they will spend half their life and "eat all your meals."
It's funny because, yes, a lot of us do spend a considerable amount of our time at home either lying in bed or resting on a piece of furniture like a recliner. For many people, hanging out in a living room may be a thing of the past as fewer people host guests these days randomly stopping by to socialize (isn't that what social media is for?).
While Tina Fey comes across as self-deprecating in the TV commercial for telling these strangers that she eats in bed, the traditional dining room table may not be all that practical either if the only purpose it gets used for is storing papers and mail that needs sorting.
Alternatives for a Changing World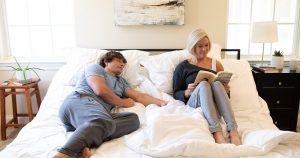 Single people and couples do not have the same social pressure as families to acquire that traditional dinner table for the family to gather around. Which begs the question: Do you really need to spend extra money for a recliner or dining room table when you'll more than likely use your adjustable bed to sit up and watch your favorite TV shows while eating breakfast or dinner?
Minimalism is a growing movement for those people who want to make their lives less about the accumulation of material possessions and instead focus on improving health, relationships, passions, personal growth, and contributing beyond themselves. This often includes choosing to live in smaller homes where space for furniture is at a minimum. For others, tiny houses are more of a practical necessity than a deliberate lifestyle choice.
Beds That Recline Make Better Use of Space and Simplify Your Life
We don't want to discourage anyone from populating their home or apartment with all of the furniture the heart desires. Please feel free to fall asleep in a recliner and wake up, groggy, needing to find your way to your bed in a completely different room if you enjoy that sort of thing. With beds that recline, you need only touch one button on your wired or wireless remote to lower the head or foot of your bed and slip seamlessly back into dreamland.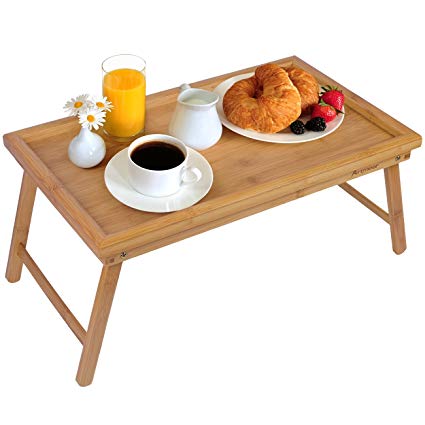 You won't have a kitchen table making you feel guilty because it always needs to be cleaned off if your meals are enjoyed from a folding bed tray that you can easily transport to and from the kitchen, setting it on the floor if you don't feel like making the trip right away after coming home from a hard day at work or play.
You also won't have kitchen floors to bend down to pick up spilled food or keys and loose change lost after falling into the internal mechanics of a recliner. Would you really miss any of that when you can instead feel your body melt into a Memory Foam mattress?
Your bedroom is a private space. Aside from the exterminator, handyman, or housekeeper paying an arranged visit, few people are ever going to get a glimpse of where you (and Tina Fey) spend so much of your time. Even if they do, beds that recline look exactly like regular beds once you align the head/foot and dress it with sheets and comforter.
Make Your Furniture Shopping Dollars Go Farther with Beds that Recline
An electric motorized adjustable bed from Flexabed is functional furniture, combining the comfort of a regular bed with the functionality of a recliner you might alternately use to sit in while watching television, reading a book, browsing the web on a tablet computer, or otherwise relaxing.
The Flexabed Premier is our model for those can truly appreciate a bed for enjoying leisure time in the home but do not necessarily need the hospital bed-like functionality of the Flexabed Hi-Low, which is aimed at users with home health caregivers or living in Assisted Living communities.
The Premier is fully customizable and offers every amenity that we offer, plus you can get optional accessories like leg extensions, side rails, side rail covers for storing the TV remote or eyeglasses, and reinforced bed frames for extra support.
And while you are enjoying the higher quality of life that comes from owning a bed you love, you can also rest easy knowing the Premier has a transferable limited lifetime warranty covering every component and design feature, including the mattress.
The Flexabed Premier: Buy Yours Locally or Online
You can order your Flexabed Premier from one of our local dealers or order one online. We're happy to answer any questions you might have about the Premier Adjustable Bed or any of our other products.
Tina Fey, if you're reading this. We have your dream bed right here!
---
Blog © 2019 Flexabed of Georgia | LaFayette GA 30728