When is a bed more than just a bed? Certainly, it transcends being a mere comfortable place to fall asleep if you can operate it with a remote control like your TV, command it to give you a relaxing massage, and offer a nightlight.
These features and others come with some of our Flexabed Adjustable Bed products. You can customize your bed so it offers the amenities you want and fits the configuration you most desire.
Adjustable Bed Accessories You're Going to Want Adjustable Bed Remote Control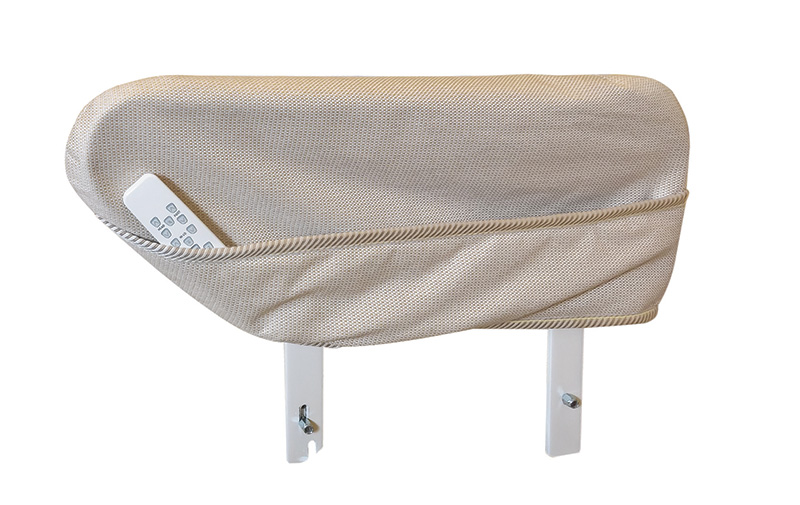 The Flexabed Premier and Hi-Low models come with your choice of one-touch wireless or wired controls, while the Value-Flex model includes wired controls only. Some users prefer the wireless because it affords them the flexibility to move around the room and adjust the bed so it is properly positioned while they're standing in the bathroom brushing their teeth before heading off to dreamland.
While the remotes for the Premier and Value-Flex models allow for adjusting the head and footer so you're able to sit up to watch TV or read a book while elevating legs, the remote for the Hi-Low model also allows users to vertically adjust the height. This is great for home caregivers or those recovering from injury or illness who need a little extra help getting in and out of the bed.
Simplicity rules our products. We understand that if you are half-asleep, it's a hassle to have to figure out something complicated. Some television remotes, for example, throw so many buttons at you that it can feel a bit overwhelming. That's why our remotes are designed to offer the functionality you want with one touch.
Worried that you'll lose the wireless remote like you lose the TV remote in the sofa? The optional side rail covers from Flexabed include a large pocket for storing your bed controller, plus other items you might want to keep handy at your side like reading glasses, a book, etc. The side rails offer some added security while you sleep but easily fold away whenever you aren't using them.
If you should find yourself in need of a replacement remote, getting one is a matter of contacting us at our factory in LaFayette, Georgia.
Adjustable Bed with Massage Function
Massage controls are inherent in our Premier remotes in case you want to add the massage feature to your bed at a later time.
The word "massage" might evoke the mental image of something like one of those recliners at the mall that vigorously knead at someone sitting in them. Those can often come on too strong. Flexabed's massage feature operates at a more subtle level, providing a soothing vibration that offers relief to aching muscles, shifts sensations away from pressure points, and encourages a peaceful transition into sleep.
Studies point to the benefits of massage, and mechanical massages done by a device can have similar effects on the body. The Mayo Clinic cites massage as beneficial for conditions like headaches, anxiety, joint point, digestive issues, insomnia, and more. Even without massage functions, adjustable beds also offer relief for those suffering from conditions like lower back pain, sleep apnea, poor circulation, acid reflux, and more.
Over the years of using your Flexabed, you'll appreciate how the massage feature adds a special touch to enhance your leisure time and improve sleep quality.

Under Bed Lighting Adjustable Beds
When you're groggy, you also don't want to have to navigate a minefield of potential hazards in a darkened room. Tripping over your shoes at 3 am on the way to the bathroom is not only aggravating but dangerous, as well.
Optional under-bed lighting, activated from your remote, can illuminate the area directly around your Flexabed. While you may need a motion-activated night light to navigate the entire way to your bathroom in the middle of the night, the installed under bed lighting shines enough to see what is directly beneath and around the perimeter of your electric bed. It's best for when you need to see under the bed for cleaning or searching for something. No more need to search for a flashlight when lighting is right at the tip of your fingers on the Flexabed remote.
Learn More about Flexabed Adjustable Bed Features
A great night's sleep and less aggravation while away are just a phone call or a few clicks away. See our line of products and accessories or call us at (800) 648-1256. Join the community of Flexabed users who've trusted our products for more than a half-century.
---
Photo: © Steven Stiefel / Riverworks Marketing Group |
Blog © 2019 Flexabed of Georgia | LaFayette GA 30728