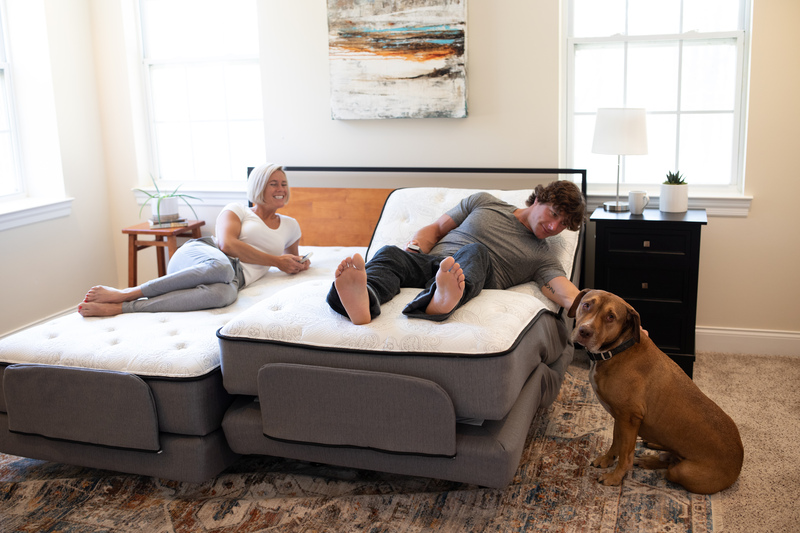 Our Queen Size Adjustable Bed
Adjustable Queen Beds
---
Adjustable queen beds are available from Flexabed!
Flexabed offers adjustable queen bed sizes with our Hi Lo, Value, and Premier products. Adjustable queen beds are the most commonly purchased mattresses. They're a comfortable size for couples and fit well in almost all bedrooms. Adjustable queen beds also have the added benefit of a huge style selection when it comes to bedding sets, bedroom furniture, and bed accessories.
Adjustable queen beds' features include:
60" wide, 80" long, and 4,800 square inches total.

Perfect for couples without children or pets sharing the bed.

Easier to move and place than larger king-sized beds.
Be sure to consider every factor when looking into Flexabeds. You need to be sure you're choosing the right size, comfort preferences, and price for your family. What is the size of the room? How many people (and pets) might be sharing the space
We look forward to speaking with you soon.
Our Flexabed family is here to help you find the perfect mattress for your needs. Take your time browsing our mattresses and please contact us with any questions. When you have found the perfect bed for you, click here to purchase locally or click here to purchase online.
Frequently Asked Questions about Queen Beds
true
What They're Saying

I am the user, 65, with Multiple Sclerosis. The bed is easy to use and works perfectly. The price and installation were exactly what I needed. The perfect tool for disabled folks.

Lela C. from Tigard, OR

A great buy. Bought for my 83-year-old mother and she is very pleased with this bed. It is easy for her to get into and is very comfortable for her. It is easy to move around because of the wheels and easy for my mom to work the controls.

Gail P. from Phelan, CA

I am 65-year-old caregiver. I needed a good night's rest, and the adjustable bed has done that for me. I would never go back to a regular bed. The Flexabed Value Flex is a good deal for the money. I love the head and leg adjustments for reading and watching TV.

Gary D. from Brooklyn Park, MN

I love this bed. It seems to be everything I need.

Christine E., NC

My doctor told me to look into the Flexabed Premier Adjustable Bed to get a good night's sleep. Easy to use.

Elaine D., Dysart, IA

This bed is so comfortable and easy to use. My husband is able to sit up when he needs to without disturbing me.

Lee Anne C., Casper, WY
Find a Dealer
Enter your address or zip code below.