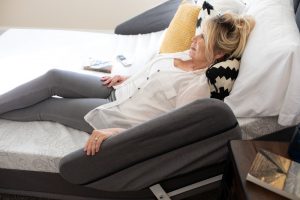 After more than a half century in business, Flexabed has become known for designing and manufacturing full adjustable beds that take comfort, customization, and accessibility to new levels. At Flexabed, we believe in the power of great sleep, and we want great sleep to be something that everyone can achieve at home. No matter what your sleep needs and preferences are, we're confident they can be achieved in our premium, full adjustable beds.
Comfort
Harnessing the power of restful sleep starts with finding your personal comfort. When your bed is comfortable and tailored to your personal preferences, you'll likely be able to fall asleep faster, wake up less throughout the night, and rise feeling refreshed and ready for the day. Flexabed makes comfort a priority through our line of products, and offers not only various models of full adjustable bed frames, but also a variety of mattress types so you can select the one that most meets your needs. Learn more about our mattress types to see which one might be best for you or your loved one.
Customization
At Flexabed, we make finding the right bed simple. Not only do we have a slew of adjustable bed options to choose from, but also we offer many areas of customization so you can custom build the bed that is your ideal match. Add accessories such as side rails and rail covers, under bed lighting, speakers and more, to turn your bed into exactly what you need.
Accessibility
Comfort is paramount when it comes to bedding, but so is accessibility. For some, particularly those with limited mobility due to age or injuries, getting into and out of bed can be a struggle. Flexabed has developed a line of products that beautifully addresses this issue. Our Hi-Low SL adjustable bed specifically is a great option for sleepers with mobility issues as it's base can be easily raised and lowered with the simple push of a button. This bed is actually a luxury alternative to hospital beds for home for hospice patients, but also makes a great option for literally anyone who could use a little help accessing their bed.
Warranty
Most of our full adjustable beds feature a lifetime limited warranty as well, which means you can rest assured that your sleep investment is protected.
More than a Bed
At Flexabed, we believe that your bed should be a haven. Your bed is not only a place where you get your eight hours each night, but it's also where you hang out with your dog, snuggle your grandchildren, nestle in with a great novel, recover from illness, and spend a record amount of your time. So why not make sure your bed is the best of the best? Because you deserve that. Learn more about our line of full adjustable beds today!