There's a crisp breeze in the air, the leaves are changing color, and the scent of pumpkin spice is in almost every coffee shop. There's no denying it – fall has arrived! While many are out hunting for the best pumpkin in the patch or searching for the spookiest Halloween decorations, we celebrate the season a little differently. At Flexabed, we believe that fall is the season of coziness, and there's no better place to get cozy than a comfortable adjustable bed.
In an adjustable bed, you can elevate your relaxation with ease. So light a scented candle, get some fluffy pillows, and let's dive into all the ways you can achieve maximum coziness this fall in an adjustable bed.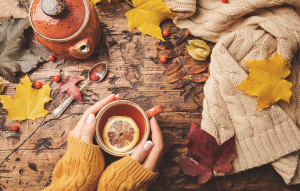 Sip, Snack and Relax in Comfort
Many of us spend all year waiting on fall's return for one simple thing: seasonal treats and drinks. Savory soups and irresistible sweets make autumn even more special. Whether you prefer a bowl of chili, a slice of warm pumpkin pie, or a hot mug of apple cider, you should be able to easily enjoy fall foods in the comfort of your bed. With a comfortable adjustable bed, fall midnight snacking is as easy as… well, pie!
With just the touch of a button, you can effortlessly raise the head of your Flexabed to the perfect angle for savoring each delicious bite. You won't have to worry about sitting at an awkward angle to prevent spills or crumbs in your bed, and you can feast on the season's best treats in comfort.
Movie Marathons and Page Turners
Fall evenings are perfect for cozying up with a captivating book or enjoying a movie marathon. Nothing beats curling up with a comforting novel or watching an exciting film while the fall breeze brushes past your window. With a comfortable adjustable bed, you can get sucked into the stories without any back or neck pain.
With the ability to adjust the position of a Flexabed, you can find the perfect angle to support your back and neck, making those movie nights or reading sessions even more enjoyable. It's the perfect way to escape into a world of imagination and relaxation during the autumn season.
Snuggle Up and Stay Close
Fall is a season for togetherness. Whether it's watching the leaves fall from the trees, taking leisurely strolls through the park, or simply enjoying each other's company, the cozy feeling of companionship is all around. If you and your partner have different sleep needs, that shouldn't force you to sleep apart. With a split queen or split king Flexabed adjustable bed, you can snuggle up together as much as you like this season!
Each of you can independently adjust your side of the bed to find the perfect position, ensuring both of you have a restful and enjoyable night's sleep. Snuggling up, chatting about your day, or simply holding hands in your comfortable adjustable bed can bring you closer this fall.
Embrace Fall with a Comfortable Adjustable Bed
As fall brings beautiful change and renewal, it's the perfect time of year to embrace good change ourselves. Embrace more coziness and connection this season with a comfortable adjustable bed. From enjoying delicious fall snacks to immersing yourself in captivating stories or snuggling up with your special someone, an adjustable bed is your ticket to making the most of this enchanting season.